Our 2018 Bead Retreat will be February 16-18
schedule will be posted soon!
Our next bead meeting will be Monday, November 20th.
Meetings are held the third Monday of every month at 6 PM at The Wright Place, 80 East Wright Street, Pensacola.
Our Christmas Show will be on Saturday, December 2, 2017 9:00am – 5:00pm at The Wright Place in Pensacola…..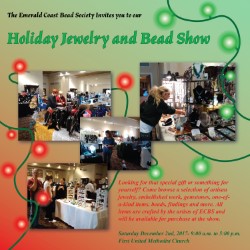 Hope you will come and see all the beautiful original,handmade jewelry!
View map on Homepage.